The clubs that "rescue" your game
A relatively new, very effective category of golf clubs is the hybrid. Although golf club hybrids have gained new popularity, clubs of that type have been around awhile.
The category is also sometimes called utility clubs. The main reason hybrids have become popular is the common feeling that long irons are hard to hit. Maybe you feel that way too.
Have you heard the great Lee Trevino Story about long irons?…
He was out playing in the rain once and lightning was threatening. He took his 1 iron out and held it up over his head and said to the gallery. "Now I'm safe. Even God can't hit a 1 iron." If that's how a pro of Lee's caliber felt about his long irons what does that say about your game.
Where Did Hybrids Come From?
The concept is not entirely new. Clubs that were called "rescues" (because they helped get you out of trouble) or "bafflers" have been available in the fairway wood category for years. Much like a hybrid, rescue woods had smaller heads and sometimes rails on the bottom that helped the club get through rough and sand more easily. They had the same length and basic shape as woods so they were still considered woods.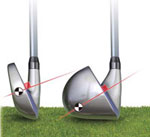 The Gary McCord Factor
The idea for today's hybrid was actually concieved by none other than Gary McCord, the one time PGA pro and now announcer for CBS golf telecasts. He went to TaylorMade back in 2002 and suggested a marriage of fairway woods and long irons…a hybrid of the two. It turned out to be a marriage made in heaven.
TaylorMade came out with what it called it's Rescue Club that year (I wonder where they got that). Soon other manufacturers followed suit and today most every manufacturer offers hybrids. Some manufacturers like Adams with their Idea irons have complete iron sets based around the concept.
What Makes A Hybrid Better?
You probably want to know the key question… Is a hybrid better?
The simple answer is yes.
But why?
The technology is a big part of it. With a lower center of gravity and a more forgiving, larger head, a hybrid golf club makes the ball go higher and farther even on mishits.
What Makes Hybrids Better?

The reason that a hybrid club is better than a comparable long iron is that the head design allows the center of gravity to be moved lower and farther back from the face. This gets the ball up easier and at a higher angle.
»

And don't forget the confidence factor.
As you look down at a hybrid club, it gives you the feeling that it is easier to hit because it looks more like a wood. It's also shorter than a wood so that adds to the confidence. Perhaps the fact that it doesn't look as scary as that 3 or 4 iron also helps. Our long irons conjure up all those memories of ugly shots.
I think the biggest factor that makes a hybrid easier to use is it's length. It feels like a shortened 5 wood. It's actual length is usually the same or a little longer than your 2, 3, or 4 iron. The typical 5 wood is roughly 42" while the typical 2 iron is 39". That makes a big difference in applying the clubhead accurately to the ball. Remember, each manufacturer may have different standard lengths from these. Learn what is right for you.
Another difference between a wood and a hybrid club is the shaft. The shaft is the same as an iron shaft. I bet you didn't know that iron shafts and wood shafts were different thicknesses. Look at the hosel of an iron versus a 5 wood and you'll see that the hole where the shaft goes into the hosel is about 1/16 of an inch wider than the wood. This helps keep the head from twisting and makes irons and therefore hybrids a little more accurate.
Hybrids are usually thought of as being for the beginner to average golfer. The fact is most tour players are using them now. Besides Gary McCord, Jim Furyck, Davis Love, Stuart Cink and many more are using them. Actually more and more professional golfers are using hybrids all the time. A golfer who doesn't have a hybrid in the bag is the exception not the rule.
Today, probably the majority of pros have a hybrid in the bag. They find that when they need to hit a high, soft-landing shot of 210-240 yards these clubs do a much better job than a 2 iron.
What Hybrids Are Right for You?
Hybrids are a great replacement for your 2, 3, 4, and maybe 5 iron…whatever irons you lack confidence in. If your swing speed is very slow (under 60-70 mph) you should consider replacing your 6 iron as well.
Golfers with slower swing speeds (ladies, seniors, and beginners) should consider an iron set that starts with a 3 hybrid goes up to a 5 hybrid, then goes to a 6-SW in the regular irons. You can also consider a complete hybrid set that gradually and smoothly goes from a long iron to a wedge.
For women, seniors, and anyone looking for maximum forgiveness in their iron set, the the Pinemeadow PRE Progressive Hybrid Iron Set
seamlessly transitions from the relatively traditional looking short irons to the hybrid middle irons, then to standard hybrid clubs.
What Kind of Performance Can You Expect From Hybrids?
Typically, they will go about 5-8 yards farther than their iron replacements. If you hit your 3 iron 180 yards than a 3 hybrid should go about 185 but at a bit higher trajectory. Higher swing speeds may find less overall distance differences. Hybrids will definitely not roll as far due to their increased shot height. Sometimes that's a good thing.
A bigger difference may be consistency. You should find that you'll hit your hybrid well more frequently than your long irons. This may mean that you'll approach those 180-220 yard shots with a more relaxed attitude. The biggest benefit of hybrid clubs may be your increase in confidence.
» Savings on Hybrids: Monthly Specials at PinemeadowGolf.com
The Hot Hybrid Clubs
So what are the hot hybrids out there and which ones should you choose? Actually the choices have changed over the years. We mentioned the TaylorMade Rescue used to be hot but Adams has come on strong with the highest rated hybrid clubs these days. It fact it is an Editors Choice for 2011.
Take a look at this page to see the hot hybrids of 2011. I'm working on the new page for 2012 as we speak. I've decided I'm going to buy a new hybrid or 2 this year. So I'll be reporting on my findings shortly, so check back.
Then go give one a try. Golfsmth is offering FREE Shipping on Orders of $75 and over. » Check them out here.

Consider Clone Hybrids
Once again, the name brands get top dollar for their hybrids. Most are in the $200 range. Considering a single name brand 3 iron is probably less than $100, the name brand manufacturers are making us pay well for a hybrids advantages.
Consider a clone hybrid here.
Clone hybrid clubs offer a great opportunity to get the benefits of hybrids without making a big investment.
» Click here to see what clone manufacturers can offer you. I believe you can get 95% of the quality at 30% of the cost.