Buying golf clubs can be challenging. There's so much to choose from. And the technology is changing all the time.
You are probably asking yourself…
"How do I know I'm not buying something that will be obsolete in a couple of years… or months?"
"And what clubs are right for me and my game?"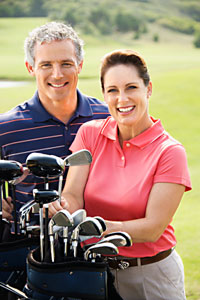 Whether you decide to buy from your local golf shop or want to try getting the best deal online, we've got the information that can help you.
Here's some of the questions you need to be asking myself…
Is my golf game ready for better clubs?
Is my problem my clubs or my swing?
What clubs do I carry now and what clubs should I be carrying?
Am I looking for forgiveness or feel?
What areas in my golf game need help… driving, irons, short game, putting? Or is it really an attitude change that's needed.
Who am I planning on buying clubs from?
Online versus local retailers?
How do I get the best deal?
How will I know if a golf club is right for me?
Do I need a golf club fitting before I buy?
Does Buying New Golf Clubs Really Help?
One of the first things you'll need to ask yourself is 'Why do I want to buy new clubs?'. You know there's and old saying… "you can't buy a better golf game."
Is it true?
Well it really depends on your current set makeup. You may well be playing with clubs that are wrong for you or don't take advantage of the latest technologies. Things have changed a lot, and for the better, in the last 5-10 years.
Oversized drivers allow you to hit the ball more consistently and straighter.
Hybrids make long irons obsolete for many players
New putters create a better roll and offer better alignment aids
Shaft technology has changed dramatically for the better
The range of shaft and grip choices has grown significantly
Club fitting is becoming more accurate and more accessable to all
On The Other Hand
With all these great changes in technology they say that the average handicap has not changed much. Maybe it's true that you can't buy a better game. Maybe if Tiger Woods played with clubs from 20 years ago he would still be just as good?
But I notice that he doesn't. And many of the tour pros are not only using oversized drivers but hybrid clubs and exotic putters as well. And don't forget about golf balls.
The pros do whatever it takes to make themselves better.
But the best golfers in the world don't just depend on the latest technology. They constantly work on their swings, attitude and fitness. They leave no stone unturned. I think there is a great lesson to be learned there.
Here's How We Can Help
When it comes to buying golf clubs there are clearly some things you can do to improve you game. But first it helps to understand your game better. If you are a beginner you'll need different clubs than an intermediate golfer. If you are an intermediate golfer than you'll need different clubs than an advanced golfer.
And not only are the clubheads themselves different but the loft, lie, and shafts need to be different for different level golfers.
It it could be different parts of your game need more help than others. If your iron play is great but your driving is killing you, then obviously buying new irons probably won't help your game.
We'll help you sort through all of these questions. Click on this link to see what clubs set configuration is right for you and your game.