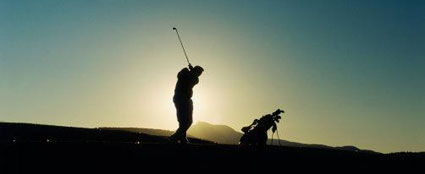 Yes, golf clubs are the tools of the game but there's much more to playing good golf than just choosing the right golf clubs.
Golf is a game that requires physical ability and skill as well as mental clarity and concentration. Ignoring these other parts of the game will mean you'll never be a complete golfer, or as good as you can be.
To go Beyond Golf Clubs means to look at all aspects of the game that can help you improve and enjoy the game more. That's what this section is about.
Learning The Game
As someone who never has taken lessons I know golf can be learned without an instructor. I learned golf, and eventually became a 5 handicap golfer, by mostly learning from books and trial-and-error on the driving range and golf course. It can be done.
Perhaps if I had it to do over again, and had a little more money, I would take some lessons and gotten some hands-on instruction by a teaching professional.
Golf Books
But if you decide to "do-it-yourself" there's plenty of help out there. The classic golf books like Golf My Way by Jack Nicklaus, and the Modern Fundamentals of Golf, by Ben Hogan are a great place to start. Click under the Golf Books link on the left to see plenty of golf book choices and reviews of the books I've read along the way.
Golf Videos
Today there's many great videos you can find online, in many cases for free. But you'll also find some great one's to add to your collection at home.
The Mental Game
I personnaly think that the mental game may be the most important aspect of playing good golf. Learning how to manage your attitude and stratigize on the golf course is what has made me a pretty good golfer. It certainly wasn't my ball striking ability. Like Bobby Jones said, golf is a game that's mostly played betwe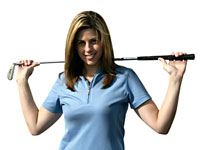 en the 6 inches between your ears.
An important part of this mental side of golf is course management. Knowing how to think your way around the golf course, especially when you don't have your "A" game can save you 5-10 strokes a round.
The "inner game" is also an important aspect. Just why do you play golf? What is it that you are trying to proove. Do you play from your ego or from your heart? I talk more about this part of golf on my Inner Game link on the left.
Learning Tools
You may laugh when you see the many contraptions that golfers and their teachers use but the fact is they work. If you go to a PGA Tour event and watch the practice range, especially on Monday through Wednesday, you'll see the pros use all manner of teaching aids to help them with their swing mechanics. If these aids work for someone who already has a great swing imagine what the right swing teaching tool can do for you.
The Golf Channel
I watch the Golf Channel all the time. Not only will you find great instruction there but you'll hear lots of experienced professional golfers share their tools and thought processes for playing good golf. I recommend putting a healthy dose of the Golf Channel on your schedule.
Golf Instruction
And if you want to keep in touch with the best teachers and golf experts you can find so many on the Internet these days. Check out my list on the left Navigation and see what Instructor's websites I visit and what email lists I've signed up for.
And don't forget your local teaching pro. Even though I've never used one I know there are many great ones near you wherever you are. I know because I hit balls next to them as they are giving lessons. I've learned some great points just by eavesdropping on their lessons. Hmm… maybe I should get some lessons after all?
Enjoying The Game
Who can disagree that what draws us to this great game is… well… many different things.
That moment when we make solid contact and the ball flies straight and far just like we pictured it
The sun coming up on a beautiful, rolling fairway with the green in the distance
When we make that putt on the last hole to win the match and maybe make a few bucks off our friends
The sound of a perfectly struck golf shot
Hanging with our best friends (and taking their money)
Making new friends when you get hooked up with strangers
The smell of the fresh-cut grass first thing in the morning
Shooting our career best score (or just paring that hole that always gives you trouble)
We must always remember what a wonderful game golf is. It's a sport played in a garden. Every moment should be savored and appreciated.
And surprisingly sometimes when we have this attitude of appreciation we actually play our best golf. The less we try for that perfect shot and the more we just "let it happen" the better we play. Funny how that works.
Golf is the ultimate sport for the "Type A" personality — a total challenge. But yet, as I like to say, there is no slam dunk in golf. It's us against the course — and our own demons. It demands we swallow our pride if we don't do it on our own.
Golf is a game that must be played with humility to play well. You see that humility every time you hear a great pro talk after a round when they've just shot a low number. You get the sense that attitude is what helped them play their best.