Golf Club Revue Puts The Spotlight On Golf Clubs and Your Game
Winston Churchill had this to say about golf clubs. "Golf is a game whose aim is to hit a very small ball into an even smaller hole, with weapons singularly ill-designed for the purpose."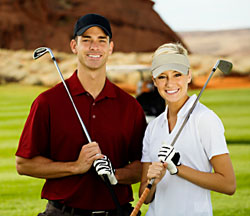 It's true that golf is a great challenge and sometimes it seems the typical golf club isn't the best tool for the job—but they have come a long way. Modern technology and golf swing testing techniques have truly made club manufacturing a science.
What does this all mean to you?
It means in spite of what Winston said, you CAN get clubs that are well-designed for the purpose. You just need to know what to look for and where to look.
Why it's important to know about golf clubs?
If you're in the market for golf clubs or just want to learn more about the latest technology, you need some information. After all, we all want to get better at this game we love. The fact is, the average golfer knows very little about their golf clubs. Golf is already a difficult game. Why make the game more difficult by choosing clubs that are not right for YOU? We'll give you the information you need to make the right choices.
The golf club marketplace can be confusing. Do you understand MOI, trampoline effect, launch angle, perimeter weighting, composite tops, forging versus casting, etc.? We'll translate all the new terminology into language that will help you understand the benefits to you.

We'll also help you keep up with the latest deals and promotions from Callaway, Ping, Nike and TaylorMade, and many other great manufacturers. We'll also help you find great deals on the best clubs for you. We'll discuss clone and custom golf clubs and help you decide if they are right for you and your game—and budget.
Will new golf clubs really help my game?
That depends on the current state of your game and your club set makeup. If your driver is more than 3 years old, you are probably playing with obsolete technology. If you don't have a hybrid club or two in your bag, you're probably giving away strokes. If you haven't tried one of the new breed of putters, then you might just be wasting two or three strokes a round. Things have changed in the last few years, and clearly for the better.
How much will new clubs help me?
Well that depends too. I personally believe there are many more important things you can work on to help your game. Practice, mental attitude, golf course management, exercise and swing technique are probably all more important than having the latest, greatest clubs. If Tiger Woods played with clubs from 10 years ago he probably would still be the best player in the world, but I notice that he doesn't. The point is, a properly fit, latest technology set of golf clubs with the right configuration CAN improve your game. So why not learn how? You've got nothing to lose but a few strokes.